Delta-9 THC is the major naturally-occurring intoxicating component of the cannabis plant. When someone smokes or consumes delta-9 THC beyond a certain threshold, they typically experience a "high."
In states where delta-9 THC is legal, cannabis dispensaries offer delta-9 THC products in many forms, including gummies, cookies, candies, infused beverages, tinctures, vaping cartridges, topical lotions and pre-rolled "joints." Some manufacturers market delta-9 THC products as able to treat or mitigate symptoms of certain medical conditions or diseases.
However, the FDA has approved only two synthetic THC formulations—dronabinol and nabilone, which are used to alleviate chemotherapy-induced nausea and vomiting. Nabilone is also used to increase appetite in patients with AIDS.
Primo Vibes Delta 9 Gummies
Delta 9 is perhaps the most popular cannabinoid, but it can be hard to find in states with strict hemp laws. That's why Primo Vibes Delta 9 Gummy Squares are made with Delta 9 derived from hemp plants instead of cannabis.
Making them completely legal to purchase and enjoy. These 50mg gummies are sure to give you a mind, body, and spirit elevating experience that you won't forget.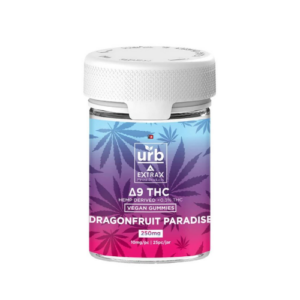 Indulge in 3 new flavors of Delta 9 THC Gummies! Urb Extrax Delta 9 THC Gummies Each gummy contains 10mg of hemp-derived Delta 9 THC, with a total mg count of 250.
Wondering why you'd want to try a gummy? Probably not. Honestly, they're probably your first pick. However, word to the wise, take one or even part of one and wait to see how you feel.
Barny's Botanicals Delta 9 Gummies
Barneys Botanicals Delta 9 THC gummies are the same gummies you know and love now with Delta 9 THC! Each gummy contains a blend of 12mg Delta 9 THC, CBC, and CBN.
CBC is known for its mood boosting capabilities as well as its enhancing effect of other cannabinoids. With the combination of Delta 9 THC and CBC in this blend you can expect a relaxed yet euphoric buzz.
Where Can These Delta 9 Products Be Purchased?
If you're looking for the best place in Fort Worth Texas to buy Delta 9 products then look no further. At Panther Canna Fort Worth, located at 1510 W Magnolia Ave Suite 108 Fort Worth TX 76104, we are dedicated to bringing you only the highest quality products available.  All of our Delta 9 products are loaded with terpenes and phytocannabinoids, are non-GMO, pesticide free, and grown right here in the USA.  Our products are all 3rd party lab tested for purity and contains less than .3% delta 9 THC, which complies with all regulations listed in the 2018 United States Farm bill.  Come in today and get started on a new, healthier you!  Our hours are Monday thru Saturday, 10 am – 7 pm and Sunday 11 am – 5 pm. If you have any questions regarding our Delta 9 Products, or any of our CBD products, please give us a call at (682) 200-9985.